Welcome to The Arc of West Virginia

---

---
The purpose of this website is to provide contact information for chapters of The Arc throughout West Virginia. Click on the links below to get more information on programs and services provided through our chapters.
---
Upcoming Training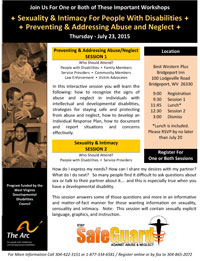 Preventing & Addressing Abuse and Neglect
SESSION 1
Who Should Attend?
People with Disabilities ▪ Family Members
Service Providers ▪ Community Members
Law Enforcement ▪ Victim Advocates
In this interactive session you will learn the following: how to recognize the signs of abuse and neglect in individuals with intellectual and developmental disabilities, strategies for staying safe and protecting from abuse and neglect, how to develop an Individual Response Plan, how to document and report situations and concerns effectively.
Sexuality and Intimacy for People with Disabilities
SESSION 2
Who Should Attend?
People with Disabilities ▪ Service Providers

How do I express my needs? How can I share my desires with my partner? What do I do next? So many people find it difficult to ask questions about sex or talk to their partner about it.... and this is especially true when you have a developmental disability.

This session answers some of those questions and more in an informative and matter-of-fact manner for those wanting information on sexuality, sensuality and intimacy. Note: This session will contain sexually explicit language, graphics, and instruction.
---
Title XIX I/DD Waiver Information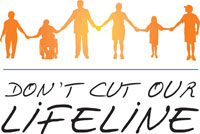 What Is The Medicaid Title XIX I/DD Waiver?
The Medicaid Title XIX I/DD Home and Community Based Services (HCBS) Intellectual/Developmental Disabilities (I/DD) Waiver Program is both a Federal and State program through the Social Security Act and funded through the Centers for Medicare and Medicaid Services (CMS) and administered through the West Virginia Department of Health and Human Recourses, WV Bureau for Medical Services and APS Healthcare.
What Does The Medicaid Title XIX I/DD Waiver Do?
Home and community-based services provide opportunities for individuals to receive services in their own home and communities, rather than in more restrictive institutional settings. In fact, a person "waives" receiving services in an institution in order to receive them in their own home and community. HCBS services are offered by CMS as an option through states so that people can avoid going to institutions.
What Are The Concerns With The Current Application?
There were major cuts made to the new application that went into effect July 1, 2015. Thousands of people receiving HCBS services very concerned. Many of these cuts will have a devastating effect on the lives of the people who depend on these services to be able to live in their homes and communities which is essentially the reason the program exists. 
What Is Being Done?
Events have been held including a rally at the Capitol building, over 11,000 signatures were gathered on a petition against these cuts that were presented to WV Governor Tomblin. Calls have also been made to US Senator Joe Manchin who has talked to the officials in charge of the program. The current status is contacting the Joint Committee on Government and Finance - Interim, to sign on to having an audit conducted of the WV Department of Health and Human Resources which administers HCBS. You can find the committee list by Clicking Here .
There is also a Facebook group that has been set up which provides updates on what is happening with the Title XIX I/DD Waiver issue. You can find it by Clicking Here .
---
The Arc of the Mid Ohio Valley
912 Market Street, Parkersburg, WV 26101
(304) 422-3151
info@thearcmov.org
www.thearcmov.org
SERVES: Wood, Pleasants, Ritchie, Wirt, Roane, Doddridge, Calhoun, Jackson, Gilmer, Harrison (Birth to Three only)